There are two ways to contribut content. You can add a link, or you can review an rss feed.
First thing is to log in.
To add a link, please go to the Issues page and click into the appropriate category. Then in the drop down menu button click on the Add Menu -> Add by URL. You type in the URL, it goes out to the page, downloads the page, extracts the title, description and possibly photo. It fills out those fields in a form for you to approve. If there is no photo, you can add a photo url at the bottom of the page. Click submit and you are done. A more senior editor gets an email, and approves the post. After a few good postings, your posts will be automatically approved.
The other thing you can do is to approve RSS articles. First go to the news feeds page. Click the "Get Feeds" link to download the most recent news feeds.

It may take 30 seconds to download the most recent news. Eventually I will run that automatically. Then click the news button to see the newest items. No images yet, they only get downloaded once the article is approved. Here is what one typical article looks like.

Click on the title to read hte article. Some may be behind a paywall or otherwise not good Click reject to remove them, so that other reviewers do not reread them.
After the title is a category. Click on that it takes you to the article . Manage->Ckedit and you can edit it. Only need to edit the description. Some have html descriptions, they can be edited over. On the development server that problem is fixed and will be in the new release.

Okay, so now you have a good article with the deswciption you wrote or approved. Time to submit the article. Click on Manage->Approve to approve the article.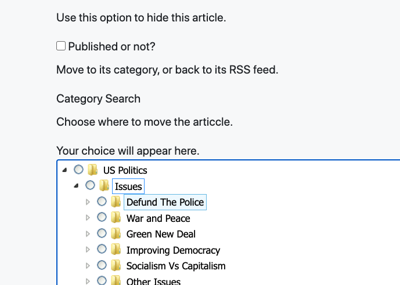 Check the button to publish it. Then select the category. Why bother with sorting by category. Well eventually we will have a tree of topics, much like reddit that users can vote on. If you believe in curated news, then part of htat is organizing it into categories. Makes a much better content discovery engine than Google search.

I use this software very day, so it is all quite working. You may use it differently from me, and experience problems. Sadly I do not have a large testing team, but I am generally albe to fix any problem in a few hours.

Thank you hugely for the help.
Built using the Forest Map Wiki
GreenMaps is a volunteer effort, separate from The Green Party of United States.